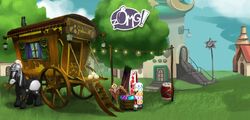 Back Alley Bargains is a shop located in Barton Town, and is currently owned by the Gambino family (formerly owned by Nicolae)
It was introduced with the beta release of zOMG!.
In zOMG!
Edit
In the game, Back Alley Bargains is accessible using the "Shop"-button of the UI. This will open the shop window, which features a long range of items for the game.
With the introduction of the voice plug-in, the shop is not only limited to selling Power-Ups, but also offers a range of different Voice Fonts.
While you will also find all the power-ups in Back Alley Bargains outside the game, this shop features an additional feature: Item crafting.
Lex is specialized in making items that have been gathered in zOMG! into equipment for the player's avatar, given that the player also has the required recipe.
Items Currently Sold 
Edit
Item
Description
Price (GC)

zOMG! Revive Edit

When you're Dazed, using a Revive charge will immediately Awaken you with about a third of your Health and Stamina. You can use further charges after you Awaken to quickly unlock ring slots also. Two ring slots per charge of Awaken are freed up. This function of Revive works even if you are Defibrillated or Awaken in the Null Chamber. This PowerUp has 25 charges.

49

zOMG! Double Orb (regular)Edit

When you're Dazed, using a Revive charge will immediately Awaken you with about a third of your Health and Stamina. You can use further charges after you Awaken to quickly unlock ring slots also. Two ring slots per charge of Awaken are freed up. This function of Revive works even if you are Defibrillated or Awaken in the Null Chamber. This PowerUp has 25 charges.

49

zOMG! Double Orb (Deluxe)Edit

This doubles the amount of orbs you receive from any monster loot drop. Duration is twenty minutes. This pack has 25 charges.

99

zOMG! Double Orb Deluxe BundleEdit

Comes with 3 Double Orb Deluxe to help your zOMG adventure.

250

zOMG! Supercharger (regular)

Edit

Restores 25% of your health and stamina back upon use. There is a recharge period that must expire before another Supercharger can be used. This pack contains 40 uses.

49

zOMG! Supercharger (Deluxe)Edit

Restores 25% of your health and stamina back upon use. There is a recharge period that must expire before another Supercharger can be used. This pack contains 100 uses.

99

zOMG! Supercharger Deluxe BundleEdit

Comes with 3 Super Charger Deluxe to help your zOMG adventure.

250

zOMG! Ghi Boost (regular)Edit

This amplifies your Ghi and makes all your attacks hit a lot harder. All damage is increased by +50%. Duration is 3 minutes. You may only use one of these at a time and you can't use another until the first one expires. This pack contains 10 uses.

25

zOMG! Ghi Amp (regular)Edit

This amplifies your Ghi and makes all your attacks hit a lot harder. All damage is increased by +50%. Duration is twenty minutes. You may only use one of these at a time and you can't use another until the first one expires. This pack contains 10 uses.

49

zOMG! Ghi Boost (Deluxe)Edit

This amplifies your Ghi and makes all your attacks hit a lot harder. All damage is increased by +50%. Duration is 3 minutes. You may only use one of these at a time and you can't use another until the first one expires. This pack contains 50 uses.

99

zOMG! Ghi Amp (DeluxeEdit

This amplifies your Ghi and makes all your attacks hit a lot harder. All damage is increased by +50%. Duration is twenty minutes. You may only use one of these at a time and you can't use another until the first one expires. This pack contains 25 uses.

99

zOMG! Ghi Amp Deluxe BundleEdit

Comes with 3 Ghi Amp Deluxe to help your zOMG adventure.

250

zOMG! Extra Gold PotionEdit

Dramatically increases the amount of gold you can make in zOMG for the next three days.

149

zOMG! Deadman's Shadow Powerup BundleEdit

Contains a bunch of power-ups to help you out through Deadman's Shadow: 

5 Ghi Amp (Deluxe)

5 Supercharger (Deluxe) 

2 Revive (regular) 

999